Product discontinued. Successor model:NH-D15
Combining a massive six heatpipe dual radiator design with an exquisite NF-P14/NF-P12 PWM dual fan configuration, the NH-D14 is built for ultimate quiet cooling performance. Topped off with a tube of Noctua's award-winning 
NT-H1
 thermal compound as well as the new SecuFirm2™ multi-socket mounting system, the NH-D14 is an elite choice for the highest demands in premium quality quiet cooling.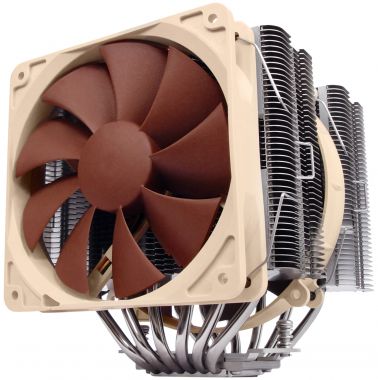 Details

6 heatpipe dual radiator design
Providing more surface area, better heat-distribution and superior airflow efficiency than conventional tower style heatsinks, the 
NH-D14
's six heatpipe dual radiator design was developed to provide ultimate quiet cooling performance in dual fan mode.

Dual NF-P14 PWM /NF-P12 PWM fan setup
The NH-D14 sports a premium quality dual fan setup consisting of Noctua's award-winning NF-P12 PWM (120mm) and NF-P14 PWM (140mm) fans, both of which feature Vortex-Control Notches, SCD technology and SSO-Bearings in order to achieve a perfect balance of performance and quietness.

Asymmetrical design for high compatibility
An asymmetrical design that gives more clearance towards the RAM slots ensures good compatibility despite of the cooler's size. The NF-P12 fan can be moved upwards or left off in order to further improve compatibility.

Excellent component cooling
Hanging out at the bottom of the fin-stacks, the NF-P14 fan doesn't only contribute to the 
NH-D14
's superb CPU cooling capabilities but also provides massive airflow over surrounding motherboard components and heatsinks, thus ensuring excellent component cooling performance.

SecuFirm2™ multi-socket mounting system
Noctua's SecuFirm2™ mounting systems have become synonymous with quality, safety and ease of use. Supporting Intel LGA20xx (LGA2066, LGA2011-0 & LGA2011-3 Square ILM), 
LGA1200
, LGA115x (LGA1150, LGA1151, LGA1155, LGA1156) & AMD AM2, AM2+, AM3, AM3+, AM4 (included 
since 2019
, older coolers require 
NM-AM4
), FM1, FM2, FM2+, the SecuFirm2™ mounting included with the NH-D14 guarantees perfect contact pressure and maximum convenience on all current sockets.

NT-H1 thermal compound
Noctua's much-acclaimed 
NT-H1
 is a pro-grade TIM solution that provides minimum thermal resistance, excellent ease-of-use and outstanding reliability.